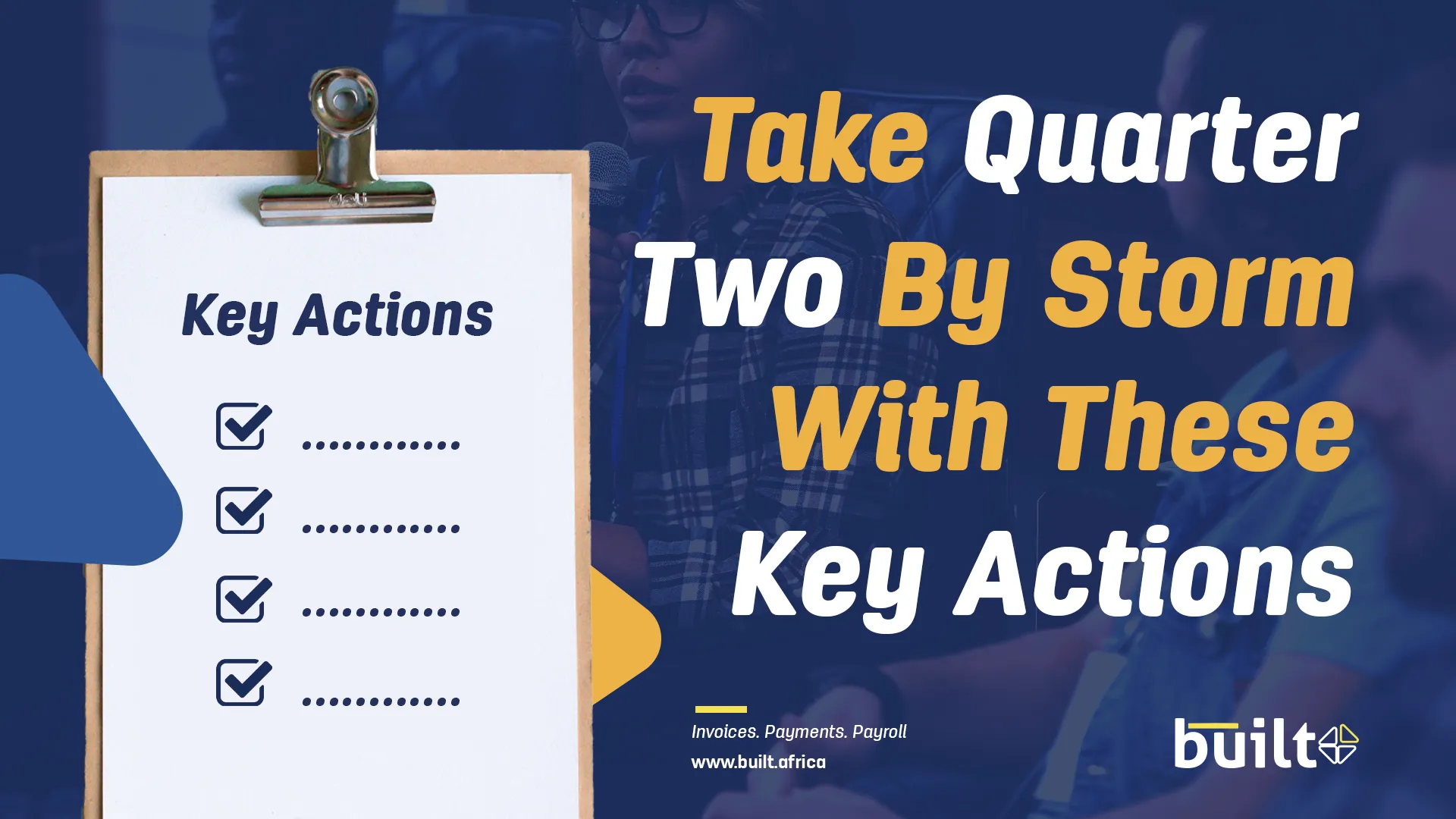 Take Quarter 2 By Storm With These Key Actions
f you are a football fan, you didn't miss the news about the parting of Graham Potter and Chelsea, Brendan Rodgers, and Leicester. These two key events marked the decisive end of the first quarter of 2023 in football.
Chelsea's decision, for instance, to part ways with their manager, probably came after a careful look at his performance and a cost-benefit analysis of his expenditure in the first half of the season.
Just like in football, businesses should also do a review of their performance to make adjustments for a profitable year. Usually, the performance of the first quarter is a good indicator of what to expect in the year.
Today, we are sharing with you 4 compelling ways to take on Q2 using Built
Reconcile ALL your accounts
Reconcile all your accounts to achieve a certain level of stability in your finances and to have a good knowledge of how your business has performed in quarter one.
Depending on the volume of transactions, it takes one to two weeks to successfully reconcile bank accounts, credit card receipts, sales receipts, and invoices.
Reconciliation is what you are doing when you sit down with the finance team to duly monitor all your financial data. It helps you project into the year with confidence and back your strategic decisions with data. This also involves frequent phone calls and trips to your bank.
You can reduce this 40 hours of work into a 45-minute exercise when you sign up your business on built.africa for free.
Compare your Quarterly Financial Reports
Reports are the map to the future of your business. Knowing how you performed and what impact your efforts made can only be measured in the numbers in your books.
Conduct your profit and loss, and compare your Q1 finance cash flow to Q4 of 2022 to help you make bold financial projections and big data-driven plans for the rest of the year.
But guess what? Everyone dreads writing reports. Even this writer 🙂
So how long are you willing to wait for the report and between the disappointment of seeing your team lose a crucial match after taking an early lead against a team at the bottom of the league table and the chagrin of losing a report you had spent days working on, in the last hour, how ready are you to bear the stress of working all week on a report? The back and forth of trying to understand the numbers, the confusion and indecision of prioritizing key metrics and figures, and the time it takes to get this done can be overwhelming. That's when Built comes in. You can substitute up to 8 hours of accounting work for 5 minutes of clicks on Built. Reports are accurate, complete, and automated.
Remind clients to settle pending invoices
There is nothing wrong with providing postpaid services, however, pending payments can turn into a mirage when they are delayed.
To take Q2 by storm, remind clients about pending invoices regularly with just a click. Did you know you can automate this on built.africa? I mean, sleeping with peace of mind while the client gets your friendly notification every other day about the pending invoice, as you scheduled. This invoice feature is available on built.africa. "How supportive!", I know right!
Pay your taxes
The taxman can be unfriendly sometimes, especially with current economic conditions. If you are reading this from Ghana, you know what I mean — you are probably reading with the GRA breathing down your neck 🙂
It gets demoralizing when one considers the tax filing process. On our platform, Built, generating accurate tax reports is automated and very convenient.
You can file and pay taxes from the comfort of your office without the stress of traffic and the brunt of the scorching sun.
Sign up on built.africa
Other things you should also consider doing this quarter to run a profitable business are:
Review your business strategy
Take some time to reflect on your business strategy and evaluate how well it has worked so far this year. Identify areas that need improvement and adjust your strategy accordingly. This could include revisiting your target market, pricing, marketing, or product offerings.
Embrace technology
In today's fast-paced world, it is essential to embrace technology to stay ahead of the competition. Look for ways to leverage technology to improve your operations: such as using cloud-based software for collaboration (on built you can invite accounting, sales, or HR personnel to collaborate on finance projects in real-time), implementing an e-commerce platform, or automating repetitive tasks.
Focus on customer experience
Customer experience is critical to the success of any business. Take the time to understand your customers' needs and preferences and ensure that your business is delivering a positive experience at every touchpoint. This could include improving your website or social media presence, offering personalized customer service, or implementing a loyalty program.
Did you know, making it easier for your clients to pay you increases your sales? On built.africa, you can achieve this by linking all payments to and from your Built Wallet at the best rate on the market — $1.
Invest in your team
Your employees are your most valuable asset. Make sure that they are motivated, engaged, and have the tools they need to succeed. This could include offering training and development opportunities, recognizing and rewarding their achievements, or providing a positive work environment. By investing in your team, you will create a culture of excellence that will drive your business forward.
When you sign up your business on built.africa, a dedicated product manager takes you and your team through weekly trainings on how to manage your books the right wayusing Built. During this session, you can ask all the questions and seek all the help you need in business finance.
I encourage you to take on this quarter using built.africa. You will love the experience, just like 10,000 other businesses across the world are currently doing.
Fate whispers to the warrior, "you can't withstand the storm". The warrior whispers back, "I am the storm". With your business signed up on built.africa, you can unleash your potential, you are the storm, ready to take on the year this quarter.
That's it. See you again in our next article. Go take on the world, sign up at built.africa
What's your reaction?
0
Smile
0
Lol
0
Wow
0
Love
0
Sad
0
Angry