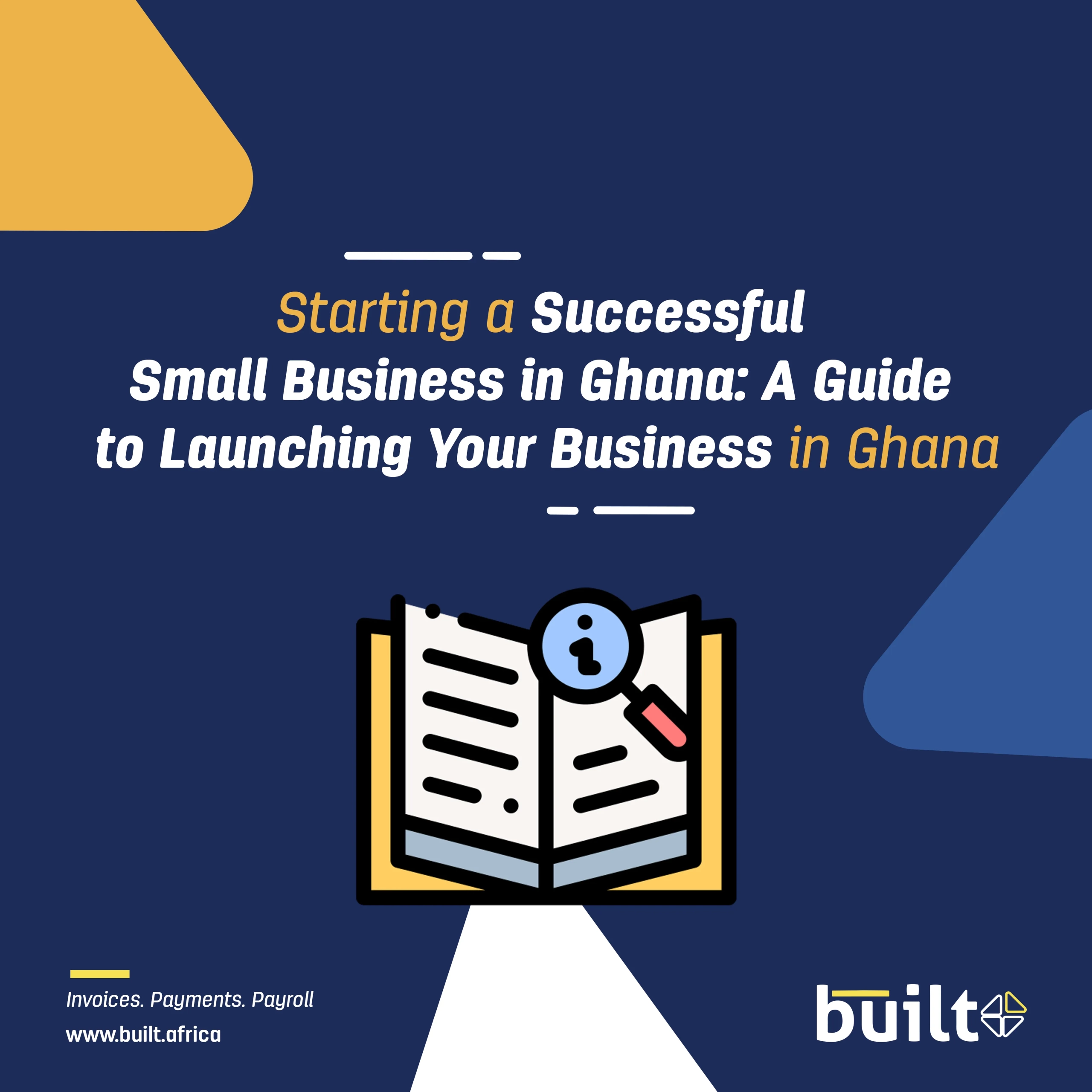 A Guide to Launching Your Small Business in Ghana
Starting a small business in Ghana is an exciting opportunity requiring careful planning, extensive research, and adherence to legal obligations. In this article, the essential steps and factors for starting a successful small business in Ghana are explained, so you will gain in-depth knowledge as a budding entrepreneur. We'll delve into crucial aspects such as market analysis, business planning, legal requirements, and financing options, guiding you toward entrepreneurial success.
Ghana's vibrant market is bustling with eager buyers embracing innovative products and services. But before you dive in, it's crucial to chart your course meticulously. So let's get started!
Market Analysis:
Discover the perfect target audience, eagerly awaiting what your business has to offer. You will gain invaluable insights by immersing yourself in a thorough market analysis. Dive deep into your target market's dimensions, demand, and competition. Learn about your potential customers' unique preferences, behaviors, and purchasing power on a personal level. Keep an eye out for industry trends, exciting opportunities, and potential roadblocks that will shape your entrepreneurial journey. You'll be well-prepared to capture the hearts and minds of your target market if you carefully assess the feasibility and growth potential of your business idea.
Business Planning:
Consider laying a solid foundation for your company based on a carefully crafted business plan. It's like having a reliable compass to guide you through the exciting journey ahead. Your plan should include critical components, beginning with an executive summary that provides a concise overview of your company's goals and strategies. Explain your business concept, target market, and the distinguishing characteristics that set your offering apart. Condense your research findings and competitive analysis to demonstrate your market expertise. Create an organizational chart for your business and indicate the responsibilities of each of your devoted team members. Unveil your vision for your products or services, as well as how they will meet the needs of your target market. Create an enticing marketing and sales strategy, as well as a well-thought-out pricing strategy and a strategic distribution network. Make a detailed financial plan that predicts your income, expenses, cash flow, and bookkeeping. #itstartwithBuilt Finally, develop an implementation strategy that includes exact steps and timelines to ensure your business's smooth launch and operation.
Financing Options:
To fuel the flames of your business ambitions, think about finding the ideal financing solution. Even though getting funding can be challenging, never give up! Begin by considering investing your personal savings to jumpstart your business. Inquire about government-backed lending programs and grants designed specifically for small businesses, such as YouStart. Most of these are available when you join business associations such as the Ghana Enterprise Agency, and aside from funding, you can build a network with other business owners and access free training. Other exciting startup programs are the Tony Elumelu Foundation Entrepreneurship Program and Orange Corners. For business loans or lines of credit, look into local banks and financial institutions. Recently, there have been some concessionary loans from traditional banks. Examples are the Fidelity Young Entrepreneurs Fund and the ABSA SME Loans both of which come at a reduced 10% per year interest rate. Present your business concept to angel investors and venture capitalists looking for new opportunities. You can also harness the power of crowdfunding by using online platforms to solicit public support in exchange for rewards or equity.
Legal Requirements:
Consider gracefully navigating the legal landscape and ensuring your business operates within the bounds of the law. Compliance is paramount! Your first step should be to register your company with the Registrar General's Department. Next, choose a suitable legal structure, such as a sole proprietorship, partnership, limited liability company (Ltd), or limited by guarantee (LBT). Obtain the permits and licenses required for your business activities and industry sector. Understand and fulfill your tax obligations, including obtaining tax identification numbers (TINs), registering with the Ghana Revenue Authority, seeking tax exemptions and reliefs based on your industry, age, or geographical location, and filing tax returns on time. Finally, uphold labor laws by implementing proper employee contracts, adhering to minimum wage requirements, and making timely social security contributions.
Starting your own business in Ghana could be a rewarding experience, but it requires careful planning, in-depth market research, adherence to all applicable laws, and access to a variety of financing options. Always remember that success blooms when you adapt to market trends, remain flexible in your strategies, and seek professional advice when necessary. Your entrepreneurial dreams are eagerly awaiting realization in Ghana, where you can experience an exciting and rewarding entrepreneurial journey!
If you are starting your business today, join us on our #ItStartsWithBuilt campaign and get initial support from the formalization of your business, financial systems setup, to tax registration and even credit for your business.
What's your reaction?
0
Smile
0
Lol
0
Wow
0
Love
0
Sad
0
Angry